Pastries and Takeaway Food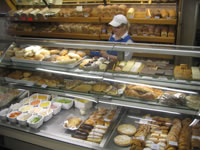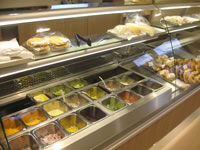 Argos Bakery make delicious takeaway food - ideal for an Orkney lunchtime.
New at our Cairston Road Shop - we offer Meal Deals which change weekly - call in for a delicious lunchtime treat at a great price!
Pastries are made daily and are available hot or cold. Orkney meat is used where available. However, you'll not only find pastries in our takeaway. Sandwiches and rolls can be made on request, with cold or hot fillings - a list of some of our delicous fillings can be seen below. At Argos we serve more delicious food - such as soup, burgers, baked potatoes, panninis, crusty baps, or pizzas - freshly made to order.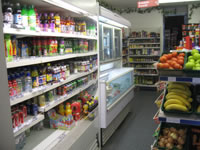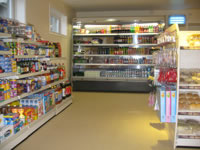 We offer healthy options in the form of salad bowls - these are especially popular in the summer months - and salads include an Orkney crab salad bowl, an Orkney Roast Beef bowl, an Orkney Chutney and farmhouse cheese and more...
At Argos Bakery - you can get everything you might need for your lunch under one roof - as well as sandwiches etc, you can also buy yoghurts, crisps, fancies, soft drinks, or fruit. Argos Bakery was the proud winner of the Orkney Quality Food and Drink Best Takeaway Award, 2006. Be sure to call in at one of our shops and taste how good our freshly baked takeaway food really is.
Hot Food
Soup
Bacon Roll
Sausages in a Roll
Bacon and Sausages
Bacon and Egg
Bacon, Sausage and Egg
Fried Egg Roll
Beefburger / Cheeseburger
Mince Roll
American Burger
Chicken Burger
Lasagne
Chicken Curry
Meat/ Chicken Pasta
Veg Pasta
Macaroni
Chips (at Cairston Road only)

Rolls, Sandwiches, Salad Sticks and Baked Tatties
choose for the following selection of fillings:
Egg Mayonnaise
Egg and Tomato
Egg and Spring Onion
Cheese
Cheese and Egg
Cheese and Ham
Cheese and Pickle
Cheese and Tomato
Cheese and Tuna
Cheese and Onion
Cheese Salad
Chicken and Spring Onion
Chicken and Sweetcorn
Chicken Mayonnaise
Chicken Salad
Chicken Tikka

BBQ Chicken
Thai Sweet Chilli Chicken
Coronation Chicken
Garlic Chicken
Ham Salad
Ham and Egg
Ham and Tomato
Prawn
Prawn Salad
Tuna Mayonnaise
Tuna and Sweetcorn
Tuna Salad
Crab
BLT
Ham, Cheese and Coleslaw

Drinks
Tea
Coffee
Hot Chocolate
Latte
Cappuccino
Milkshake

Salad Bowls
Choose from the following:


Tuna
Ham
Cheese
Chicken
Prawn

Crab
Salmon
Orkney Cheese
Roast Beef